I mentioned James Horner's score for The New World a few weeks back. I've lived with his soundtrack for a while and had a few revelations.
The director used more non-Horner than Horner. The Wagner was a brilliant choice, the Mozart less so. He should have tossed it and had Horner compose more. Horner made a mistake in leaving out the Mozart and Wagner on his soundtrack CD. The music is reminiscent of his score to Where The River Runs Black (1986) and also of Maurice Jarre's watery Mosquito Coast. What I heard in listening to Horner's music alone, without picture, and without Wagner and Mozart, was a series of very sad cues. And then I recalled, the movie has a kind of sad and languorous pall over it, and it is from the music. Was the film actually sad? Not that I recall. Times were tough, but sadness was not the prevailing emotion.
My thought is that Horner imposed sadness onto the film. Did the director want it? Who knows, but in a way, it didn't work. I like the music by itself, and even with the film. But perhaps with a different composer, the music would have had a more dramatic thrust, and less absynthian stupor.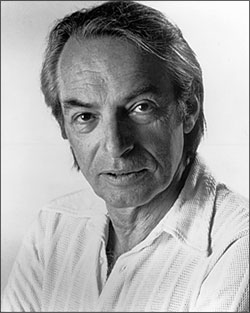 Leonard Rosenman
I watched Rebel without a Cause the other day. I can't help but be sensitized to one element in the picture that I have trouble with: the music.
The legend I picked up here at UCLA is that James Dean was a young theater major who was taking music theory classes. The director of the film he was working on needed a composer, and young James offered to ask his teacher, Leonard Rosenman. (Rosenman, along with two of my teachers, Leon Kirchner and Earl Kim, studied with the grouchy master himself, Arnold Schoenberg. Only Rosenman inherited the 12-town bug.) So when he was asked, he said yes, and East of Eden and Rebel without a Cause became cinema's first 12-tone scores.
But as I listen to the music, it just seems wrong. Yeah, it's creative, and original, but, well, it just sounds weird to me. The music has a similar metabolism to Lennys West Side Story, but with "wrong notes." (Critics allededly trashed Schoenberg's Opus 11 piano pieces a "Brahms with wrong notes.)
The gnarly music that accompanied "The Twilight Zone" was perfect. The sci-fi subject matter worked perfectly with the highly dissonant and modern sounding score. In 1955, serialism was rampant among academic composers around the globe. Clearly, Rosenman convinced the director that he needed to be "in tune" with the times. But I would be damned curious to see this movie with another score. Even another one by Rosenman. It is what it is, and that's why it's special. But these two films helped me see how a composer can imprint his mood or stylistic preference upon a film whether the film warrants it or not. To date, production companies have only brought out old films with new scores, but I can imagine a new trend where films are rereleased with new soundtracks that utterly change the way the film is perceived.