Having finished my composition projects for the summer, I am finally returning to finishing my book on Rufus Wainwright. Having bought Robert O. Gderdingen's terrific publication "Music in the Galant Style" I have found the book format that I'd like to have for my book: one with relatively large type, but most importantly, a hardback book that can stay open at the piano without breaking the binding. I will have as many musical examples as I am able. Each essay will have a lyric/melody/form analysis — see below.
I was shocked to see how much I've already finished. But in that I'm smarter now than when I originally wrote all this 😉 I'll be revising and tweaking each essay.
My new working title is RUFUS WAINWRIGHT: ANALYTIC ESSAYS ON SELECTED EARLY SONGS. I am debating whether to keep or toss a bevy of miscellaneous chapters about Rufus, but otherwise I will focus on analytic observations and less on dish or biography.
In the illustration below, I include the lyrics, the melodic form with respect to repeated melodic figures (a, b1, c, etc.), and the formal structure (A, B, verse, chorus, etc.). Look up and down the left side of the diagram. You see abcd and their variants appearing from left to right. Each letter and its variant have their own column. What this allows the reader to see and understand is exactly when melodic figures are new or repeat. And what we see over and over in Rufus's music is that they usually repeat, and there are limited melodic figures in each song. If you look at all the a1 figures and the lyrics to the right, you'll know that they all have the same melody. Now look at a2; and then b; and then c; and finally d. I include a complete transcription at the end of most essays.
Statistically the "a" figures appear most frequently (12 times); the "b" figure 6 times; the c figures 8 times; and the "d" figure is rarest at 3 times. The "a1" and "a2" figures are the melodic hooks as well as the title of the song, "Pretty Things." The "b" figure is a simple melodic turn that joins a1 and a2. The "c" figure is an oscillating 4th, and the "d" figure is a falling 4th that signals the end of the section.
As you look at this illustration, you see that the yellow and blue section together make up one big chunk. This chunk is repeated again, but then varied in its third appearance. Can you see what has changed?
[kml_flashembed publishmethod="static" fversion="8.0.0″ movie="http://www.youtube.com/v/6p-dBVBf5vI" width="500″ height="375″ targetclass="flashmovie"]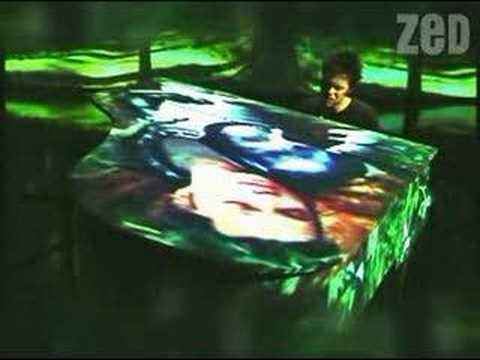 [/kml_flashembed]